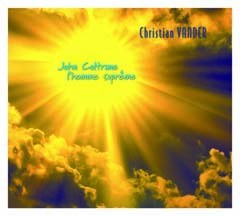 JOHN COLTRANE L\'HOMME SUPREME
Reference A 36
In 1997, I had a dream, a record, dedicated to John Coltrane. A child had painted the sun on a white cardboard, and below that sun, he wrote a title in blue: « John Coltrane l'homme suprême »... Digipack+ 24 pages booklet - AVAILABLE ON OCT. 15th -
On July17, 1967, time stopped.
The great saxophone player John Coltrane left us. I was lucky enough to discover, at a very young age, an exceptional musician. The beauty, the spirituality, the strength, the softness, as well as the fragility of his notes.  The expression of that sound which spoke to me like a voice. 
From that moment on, he became my daily bread. Indispensable. 
No one can ignore the immensity of his visionary works. It still resonates in all of today's musical productions, and certainly in those of tomorrow.
This record was recorded, day after day, between July 17, the date on which he departed, and July 21, the day on which his funeral was held.  On each day, an offering, a musical, poetic gift, for him, created in real time.  On the 21st at midnight, the record was completed.
                                                                                                                                      Christian Vander
                               featuring  Christian Vander, Stella Vander, Simon Goubert, Pierre-Michel Sivadier, Frédéric d'Oeslnitz, Philippe Dardelle,  Isabelle Feuillebois, Hervé Aknin, Marcus Linon, Sylvie Fisichella, Sandrine Destefanis, Julien Tessier
---
Associated or complementary products