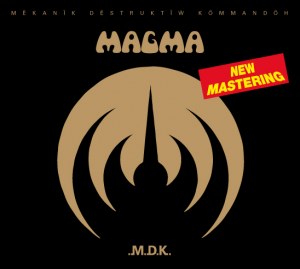 M.D.K - REMASTERED VERSION - NEW DIGIPACK PRESENTATION
Reference REX 7V2
---
1973 -MEKANIK DESTRUKTIW KOMMANDOH is considered by many to be the ultimate MAGMA masterwork.
---
---
MEKANIK DESTRUKTIW KOMMANDOH is considered by many to be the ultimate MAGMA masterwork. Recorded in 1973 at the Manor Studios in Oxford by a completely new line-up, the sole sur../VIVOrs from the previous incarnation of MAGMA were Klaus BLASQUIZ and, of course, Christian VANDER himself. A long piece in 7 movements, M.D.K. had an extended gestation period before reaching its final, definitive form. The previous band had recorded a short version - dominated by the brass section - which was released on a 45 rpm single. The progression from this simple version to what is heard on the album is astounding. The entire credit for this achievement is down to Christian VANDER, who by this time had taken the artistic destiny of MAGMA fully into his own hands. Although the performance of the band was an order of magnitude more powerful than before - notably with the arrival of Jannick Top on bass, whose playing complemented Christian VANDER's music so perfectly - then perhaps the most striking characteristic of M.D.K. was the epic sound produced by the vocal team. Driven by a colossal, giant-stepping rhythm section and dynamically reinforced by a female backing group - with Stella VANDER appearing for the first time - the voices of Klaus and Christian come to haunt our souls through these magnificent songs which seem to emerge from our collective memory, conferring MAGMA's music with a timeless and universal character.
---

Christian VANDER : drums, vocals,
organ, percussions
Jannik TOP : bass
Klaus BLASQUIZ :vocals, percussions
Jean-Luc MANDERLIER : piano, organ
René GARBER : clarinet, bass,vocals
Claude OLMOS : guitar
Stella VANDER : vocals, chorus
Muriel STREISFELD, Evelyne RAZYMOVSKI, Michèle SAULNIER, Doris REIHNARDT: background vocals
Teddy LASRY : saxophone, flute
---


1 - HORTZ FUR DEN STEKEHN WEST

2 - IMA SURI DONDAI

3 - KOBAIA ISS DE HUNDIN

4 - DA ZEUHL WORTZ MEKANIK

5 - NEBEHR GUDAHTT

6 - MEKANIK KOMMANDOH

7 - KREUHN KOHRMAHN ISS DE HUNDIN
---

Recorded at MANOR and AQUARIUM studios
in 1973 by Simon HEYWORTH and Gilles SALLE.
---