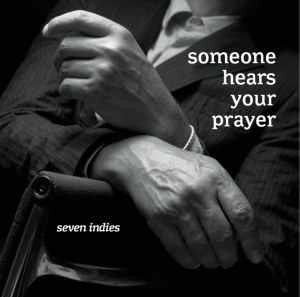 SEVEN INDIES - Someone hears your Prayer - CD+DVD
Reference MU012
JAMES MAC GAW SOLO PROJECT
Seven independent souls - a septet of mercenaries without a map or compass, let loose in the studios of Music Unit. James Mac Gaw, guitarist for Magma, has at last succeeded in gathering his Electric Orchestra, summoned to create a new chapter and to find a voice. An in vivo creation. James - singer! – spurs on the horde in love with rock and Coltrane. Intensity and depth of sound, sophisticated darkness, de profundis lyrics (Make the previous life die) : Someone hears your Prayer hails both the living and the dead. A paroxystic, gloomy and bright breakaway. Dam solar!
Seven Indies : James Mac Gaw, Manuel Poletti, Jim Grandcamp, Philippe Bussonnet, Philippe Gleizes, Daniel Jeand'heur, Pierre Luzy
Included the DVD-documentary All your dreams come true - the Seven project - Production: Dominique Poupardin
 Dom Poupardin has immerged himself into the real-time creation of the Seven Indies' album, knowing perfectly how to make us forget his camera to plunge us right into the core of their sonic smithy. Daily glories and wanderings of their compositions, harmonies and dissonances of their faces under stress. Underwater story - Split-screen and black-red light: an apnoeic raid of which the album will in fine sound the knell of relief.
https://www.youtube.com/watch?v=T8pEktrJnQ8
RECORDED IN 2010 
Listen to some excerpts here: http://www.musicunit.fr/artiste-fr/seven-indies
NB: All incomes will go to James Mac Gaw whose fight against the disease continues.