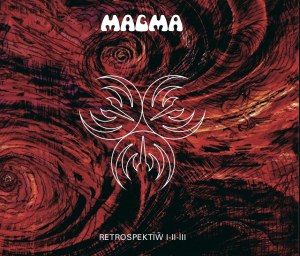 MAGMA - RETROSPEKTIW I - II - III + BONUS
Reference REX15-16V2
3 CD DIGIPACK, REMASTERED - The first 10 years of Magma were celebrated with the music written by Christian Vander on three memorable evenings in June 1980 at the Olympia theatre in Paris.
This retrospective, reuniting most of the musicians who had performed in the group, was issued as two albums, Retrospektïẁ 1/2 (Double) and Retrospektïẁ 3 (Single). Issued first, Retrospektïẁ 3 comprises 3 titles, Retrovision, a long piece in the style of the album Attahk, in which the vocalists Stella Vander, Guy Khalifa and Maria Popkiewicz turn in a blazing performance over a driving rhythm section, followed by a supercharged version of Hhai, in which the trio Lockwood/Paganotti/Widemann works miracles. And finally La Dawotsin, where, in a more muted register, Christian Vander's voice triumphs through its mastery and profound sensibility.
A bonus of more tan 15mn is included in this revised edition, the first studio recording from January 1980 of the song Retrovision, a pre-production mockup for a studio album. Ultimately Retrovision will never exist as a studio version.

Recorded, like Retrospektïẁ 3, during the soirees at Olympia in June 1980, Retrospektïẁ 1/2 is an absolutely fundamental album in which Theusz Hamtaahk, the first movement of the trilogy of the same name, is presented for the first time. The second and third movements, Wurdah Itah and Mekanik Destruktiw Komandoh, were of course already well known. Although played in concert since 1974, Christian Vander had waited for years before recording it for posterity as he wanted every note to be as beautiful, magical, essential and definitive as possible. It is with the same respect for his music that he releases here the most successful version of Mekanik Destruktiw Kommandoh, considered outstanding on account of two incredible improvisations from Bernard Paganotti and Didier Lockwood. Klaus Blasquiz, who did not perform on Retrospektïẁ 3, is the lead vocalist on this version.
There's no doubt about it, Magma have left a legacy of music that defies any of the standard and convenient classifications of rock, operating instead in a realm of their own creation.
AVAILABLE JANUARY 25th, 2021