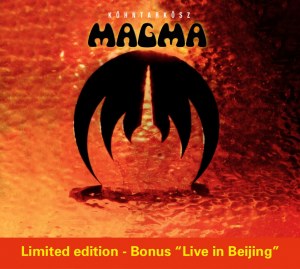 KOHNTARKOSZ - LIMITED EDITION - BONUS "LIVE IN BEIJING"
Reference REX8V2
---
BONUS "LIVE IN BEIJING" Never heard before 32 minutes live track recorded during the 2015 China tour.
---
Not being a man who tended to sit on his laurels Christian VANDER decided, with KOHNTARKOSZ, recorded in 1974, to set off in a completely new musical direction, putting anyone who expected a simple encore to MEKANIK DESTRUKTIW KOMMANDOH straight onto the back foot.
Fortified by the success of the last album, the majority of musicians would be delighted to lay back into their own style and play safe. Not so for VANDER, who was driven to surpass himself, to bring to birth a new masterwork. Considered against the other albums, KOHNTARKOSZ (the composition) used a profoundly original approach
to lift the rhythmic pulse and float it above the music, so that instead of marking time it continually sits above the metre. The savage virtuoso drumming of the earlier albums is here replaced by a more restrained approach, in which every stick hit seems to weigh twenty tons by contrast. The result is a mysterious incandescent atmosphere which holds the listener in breathless thrall right up to the explosive finale.
If, when compared with M.D.K., the sound of the band has changed significantly, with the monster bass foundation laid down by Jannick TOP and the other-worldly keyboard playing come to the fore at the expense of the vocal work, the spirit of MAGMA nevertheless remains intact. This spirit is also found in ORK ALARM, TOP's first composition for MAGMA, and the final piece, COLTRANE SUNDIA, a vibrant and heartfelt tribute to John COLTRANE, the inspiration for all this marvellous music.
Christian VANDER, drums, percussions, vocals, piano
Jannick TOP, bass, vocals, piano, cello
Klaus BLASQUIZ, vocals, percussions
Gérard BIKIALO, piano, organ
Michel GRAILLER, piano, clavinet
Stella VANDER, vocals
Brian GODDING, guitar
Unavailable since months in its original version, finally here is Magma's fourth and legendary album in a digipack remastered deluxe edition, including a never heard before 32 minutes live track of the head title, recorded during the 2015 China tour. Unique opportunity 8 years later, to hear the band surrounding the telluric guitar of the late and much missed James McGaw.
This bonus version of Köhntarkösz, recorded in Beijing, remains an unforgettable memory...
    I remember James telling us after the concert:
    "This is the best chorus I've ever taken on this tune!"
This was James at the top of his game, possessed by a frenzied energy, and despite the years this solo is as intense as ever.
    We are delighted to share it with you. 
                                                                                                                                                        From us to you dear James…Christian

1 - KOHNTARKOSZ (part 1)
2 - KOHNTARKOSZ (part 2)
3 - ORK ALARM
4 - COLTRANE SUNDIA
5 - KOHNTARKOSZ (Live in Beijing) Bonus recorded in Beijing May 30th 2015 at Yugong Yishan Live Music club by Francis Linon

Mastered at Greasy records studio 
---