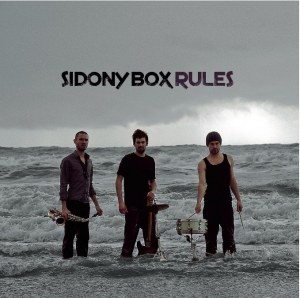 SIDONY BOX RULES - CD + DVD
Reference EX 09
Award-winner of the "Rezzo Jazz à Vienne 2010" showcase and selected for the AFIJMA's "Jazz Migration 2011" tour, Sidony Box installs the Power jazz trio in the tradition of its illustrious elders, while keeping the devastating energy that made the initial force of the band.
BONUS DVD "NO RULES" INCLUDED
The best way to present the music of this trio is probably to emphasize the state of mind in which it arose as well as its aspirations.
 Urgency and obviousness first characterize

Sidony Box

which was created at the beginning of the summer 2009 not as a conceived project but more as the happy consequence of an unpremeditated encounter. While the three musicians play for the first time together, a genuine sound and the will of a common musical direction intrude naturally. Far from the classical well-ordered styles, each individual of this band brings in its own musical identity to design rapidly a unique repertoire inspired by the contemporary world, blending with ease separate musical universes.
 Award-winner of the "Rezzo Jazz à Vienne 2010" showcase and selected for the AFIJMA's "Jazz Migration 2011" tour,

Sidony Box

has earned its scenic reputation through Europe and already released two albums acclaimed by international press.
 Sidony Box
is back on stage with a luminous and heavenly third album recorded by

Venux Deluxe

, well known for his work with legends such as

Magma

and

Gong

. This album installs the Power jazz trio in the tradition of its illustrious elders, while keeping the devastating energy that made the initial force of the band.
 Sidony Box
is now writing a new page of its history, becoming impossible to miss from now on.
Manuel ADNOT, guitare - Elie DALIBERT, saxophone - Arthur NARCY, batterie