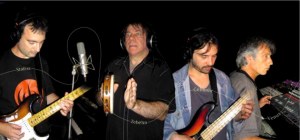 ORKESTRAAHL K.A - DOWNLOAD
Reference ORKAD
ORKESTRAAHL K.A - SING ALONG WITH MAGMA RYTHM SECTION
Kohntarkosz Anteria K.A 1 + K.A 2 + K.A 3 + PDF file of the complete lyrics.
Sing along on the band (keybords, guitar, bass, drums, percussions) or simply enjoy the great performance of each musician.
Add ORKESTRAAHL K.A to your basket, press ORDER. You will get a link in a message in your mail box the next day. Just click on the link in order to download the files. Enjoy!